Sunshine Report for March 2018
Maria Everett, was appointed by Governor Ralph Northam to chair the Virginia Department of Alcoholic Beverage Control Board. Everett, the director of the Freedom of Information Advisory Council from 2000 to 2017, retired in August and joined VCOG's board in January.




General Assembly towards the close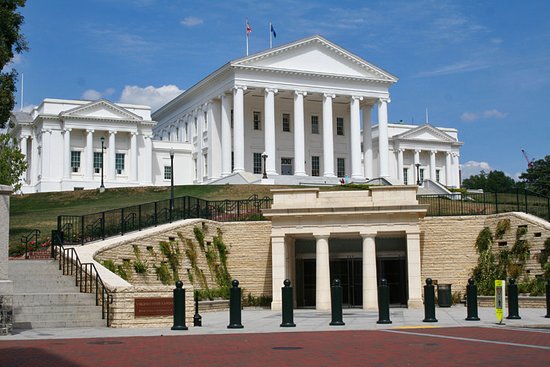 The 2018 General Assembly session draws to a close next weekend, and with it go many bills that would have affected the public's access to government records and meetings. Some of the bills that did not make it through should not have made it through (in VCOG's opinion) while several others would have been a welcome breath of fresh air.

Primary among the former category was SB727, which would have exempted the judiciary from Virginia's FOIA. In withdrawing the bill on the floor of a Senate when it was up for a final vote in that body, Sen. Richard Stuart said the bill had "caught on fire" and that people hadn't understood what he was trying to do. Striking the bill, he claimed, meant that there was not going to be any directive telling the Supreme Court to create rules of access.

What neither Stuart nor representatives from the Office of Executive Secretary did not mention was the case pending in Richmond Circuit Court where the OES has asserted in a brief that it is not subject to FOIA. Typically the General Assembly does vote on matters at issue in pending litigation.
To watch the senator's floor speech, go to the Senate video page, click on the video for "February 7, 2018 - Regular Session" and forward to the 1:36:45 mark.

(Stuart was not alone in facing backlash over a proposal to remove a branch of government from FOIA. In a 48-hour period last week, the Washington legislature introduced and passed a bill to exempt itself from that state's open records laws. After 19,000 calls and comments poured into Gov. Jay Inslee's office, the governor issued a statement confirming that he would veto the bill. Legislators also promised not to override the veto, even though they had the votes to do so.)

Two bills in the category of missed opportunities were one to require a public comment period at open meetings, and one to require local governments and school divisions over a certain size to post checkbook registry data online on a quarterly basis.

The public comment bill would have allowed public bodies to create their own rules regulating the time, place and manner of the public comment period, but local governments and school divisions testified to their concern over the scope of just how many meetings the requirement would apply to, as well as its interaction with statutorily mandated public hearings on specific issues where public comment is already required. VCOG testified that the bill would enshrine an important right of the public to comment on matters that would affect them. The bill was sent to the FOIA Council for study this summer.
To view testimony on this bill to a House subcommittee, click here and forward to the 28:45 mark.

The checkbook bill was opposed by several local governments, school boards and associations. Most were concerned with how much the proposal would cost to implement. Some estimates given in a local government impact statement were as high as $75,000, likely envisioning a system created by a third-party vendor. The bill did not, however, direct what kind of format the data needed to be in, and VCOG pointed out in letters to subcommittee members that Goochland County has for years posted basic spreadsheets with this data to a page on its website. After passing the Senate, the bill died in a House subcommittee when a motion to report the bill was not seconded by anyone. This is the second year this subcommittee has killed the bill; VCOG hopes the third time will be the charm in 2019.
To view the testimony on this bill to a House subcommittee, click here and forward to the 13:00 mark.

For a full update of bills affecting access during the 2018 legislative session, tune in to VCOG's free Sunshine Week Webinar #1 (click "going" and you will receive a link to the webinar the day before).
---
VCOG newsletter
Do you enjoy the "Open government in the news" feature of our monthly newsletters? Well, you can get these items and more by signing up for our daily newsletter.
You might also consider a sustaining subscription to the daily and monthly newsletters. Go to www.opengovva.org/donate and make make a note on your contribution that you are supporting our newsletters.
Sunshine Week a-go-go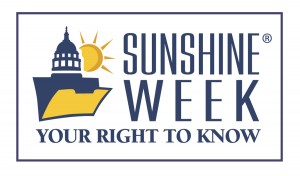 March 11 through 17 is Sunshine Week 2018!

VCOG is marking this annual, nationwide celebration of access to government records and meetings with a slew of offerings, starting with several opinion pieces authored by members of VCOG's board of directors, three webinars and two in-person events.

We are offering three webinars, one each day from 10 to 11, March 13-14.
Webinar #1, March 13: Transparency and access bills at the 2018 General Assembly

Webinar #2, March 14: The basics of requesting records under FOIA

Webinar #3, March 15: The basics of FOIA's open meetings requirements
On Monday the 12th, we will host a panel discussion with three reporters -- Rachel DePompa from WWBT, Jeff Schwaner from The News Leader and Patrick Wilson from the Richmond Times-Dispatch -- as they share "The Story Behind the Story." Hear how these veterans relied on public records and access to public meetings to report on some of their biggest stories.

Capping off the week, on March 16, VCOG will celebrate James Madison's birthday with quick-hit presentations on transparency, followed by lunch and a movie: "All the President's Men."

All of these events are FREE and are open to anyone. But you have to register or otherwise let us know you're coming so we know how many to plan for. For links to register, go to our events page. We can't wait to see you there!

VCOG's Megan Rhyne will also serve as a panelist at a Sunshine Week curtain-raiser conference at the Newseum in Washington, D.C. The even is free and open to the public.

Open government in the news
Following up on complaints that deputies in the Norfolk sheriff's office felt pressured by then-Sheriff Bill Watson to campaign for him, The Virginian-Pilot sought various records from Watson. The FOIA requests were ignored, then the phone where some of the records were supposed to be went missing. In a profanity-laden "tirade," Watson also told the Pilot that he didn't care whether they got the records or not.

An Associated Press review of 10 years worth of county records showed that just 3 percent of the 1,737 admitted to Fairfax County's gifted and talented programs through the appeals process were students identified as black or Hispanic.

The 1902 poll books from Prince William County's Brentsville District – some labeled "Colored" and others labeled "White" -- were named among the Virginia Association of Museums' Top 10 Endangered Artifacts for 2017 and awarded a $2,000 prize to go toward restoring the books.

The Pittsylvania County Board of Supervisors traveled 45 minutes to The Berry Hill Resort in South Boston for a weekend-long retreat, paid for out of a $25,000 grant from the Danville Regional Foundation. The retreat is part of a yearlong effort to "move the County forward," according to the county administrator, but VCOG was among those citing concern over meetings that were effectively inaccessible to the public.

Two Danville city councilmen called for meetings of the Industrial Development Authority to be recorded for public viewing. City officials noted that, though its meetings are already open to the public, the IDA catches a lot of flack -- especially on Facebook -- because of misconceptions over what it does. "If people want transparency, let's give it to them," Councilman James Buckner said.

Less than a month after she promised that the county would give the public a full accounting of what incentives Amazon was being offered to build a second headquarters in Arlington, the county board of supervisors chair said she was not at liberty to disclose anything since the county had signed a confidentiality agreement with Amazon.

Pittsylvania County field a FOIA request for records from the Danville Area Humane Society to determine the number of county animals that were coming into the city shelter. The animal shelter estimated it would cost $6,000 to produce the records.

The Virginian-Pilot lost its bid to obtain a transcript of that part of a hearing in the forgery case against Portsmouth Councilman Mark Whitaker that was closed to the public. Retired Hampton Circuit Judge William Andrews III, the same judge who closed the hearing, defended his decision, saying it was necessary to protect the grand jury process, even though the hearing was not part of a grand jury proceeding.

In December, the Hampton School Board defended its decision to rename an adult education center without public discussion because it was not technically a school. But, in February, the board renamed a middle school, again with little public discussion.

Arlington County denied a FOIA request for the 911 call made after the hit-and-run accident that Bijan Ghaisar was involved in prior to the police chase that ended with Park Police shooting him.

Emails released to WTOP through FOIA showed substantial confusion among officials at the Department of Elections and the City of Fredericksburg about voting district lines in that city. The confusion was not clarified by Election Day when 147 people voted in the wrong House of Delegates district.

The Bristol Herald Courier wrote about the different ways Tennessee and Virginia police departments handle requests for criminal incidents following a police shooting and a Taser incident involving an off-duty police officer. Virginia State Police would not release records related to the shooting of a Washington County man by a county police officer. Across the border, the paper noted, the Tennessee Bureau of Investigations makes closed investigations of officer-involved shootings available to the public. The Bristol Tennessee Police Department provided full reports of incidents where a Taser was used and the investigation was closed. By contrast, the Bristol Virginia Police Department declined to release reports on eight Taser incidents in 2017, while the Washington County SHeriff's Office released only redacted narratives of similar incidents.

Using a database of court case information created by civic hacker Ben Schoenfeld, the Northern Virginia Daily was able to report on the thousands of people in Shenandoah, Warren and Frederick Counties, as well as Winchester, who were taken to court every year to pay debts to medical providers.

A meeting of Richmond Mayor Levar Stoney's Monument Avenue Commission was postponed after the organization that was set to host it said it was not originally told the meeting had to be open to the public.

The Chesterfield Police Department declined to release the video of a traffic stop where an officer trained a gun on driver who reached for his pants while trying to explain to the officer that he had a knife. Though the department rejected the driver's mother's request for the video, it invited her and a columnist for the Richmond Times-Dispatch to view the video at the department. The video was withheld under the exemption for ongoing criminal investigations, but Chief of Police Col. Jeffrey S. Katz also justified the decision to withhold the video on the grounds that the driver's mother had "an anti-law enforcement agenda" and because the department wanted to make sure the video was not "spliced" or that "voice overs are not placed over it."

Though legislators filed their statements of economic interest forms on Jan. 15, the reports will not be available to the public until March 15, a week after the legislators end the 2018 General Assembly session. The executive director of the Virginia Conflict of Interest and Ethics Advisory Council said the forms were not subject to disclosure under FOIA and that they were not to be released before six weeks from filing, even though the statute says actually says, the forms shall be made public "no later than six weeks."

A Fairfax County juvenile court judge barred the public from a hearing regarding a teenager charged with killing a Reston couple shortly before Christmas. Judge Thomas P. Sotelo agreed to a motion to close the hearing after the juvenile's attorney said it could feature "sensitive information" about her 17-year-old client.

The Culpeper County School Board decided during its Monday work session to publicly release its attorney's advice on instituting prayers before its meetings.

More than 100 days after filing a FOIA request with the U.S. Department of Housing and Urban Development for records related to the scope of work proposed by the new owner of a subsidized housing complex, Henrico County Deputy County Manager Doug Middleton finally got a response: No. HUD said the records were part of a package currently under agency review.
Your dues and/or donations go straight
toward VCOG's modest operating budget
and are 100% tax deductible.

Our IRS W9 form can be found here,
and feel free to ask for copies of our most recent IRS 990 or financial review.
---
Virginia Coalition for Open Government
P.O. Box 2576
Williamsburg, Virginia 23187
US


Read the VerticalResponse marketing policy.